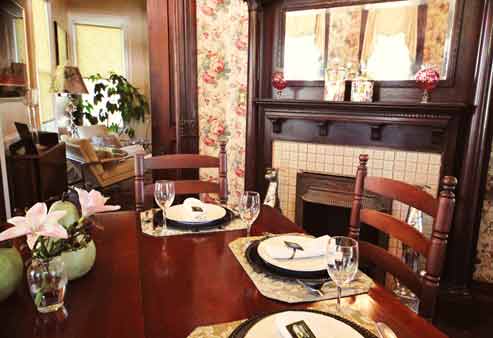 Special Occassion Dining
We are here to provide you with an unforgettable experience.
Should you be in need of special occasion dining, such as an anniversary dinner for two or a cocktail party for 50, we can do it all for you.
Please ensure that you contact the innkeeper 72 hours prior to check-in to make special dining arrangements.
Corkage fees and in-room dining fees may apply.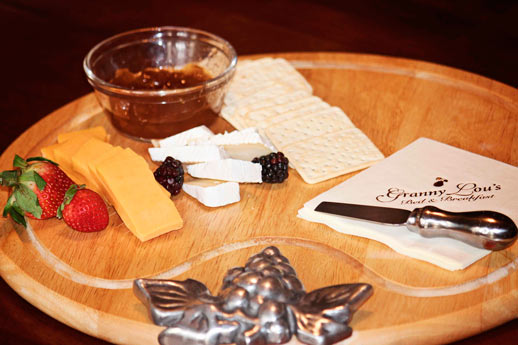 Wine and Cheese Pairings
Complimentary wine and cheese pairings are provided on Friday and Saturday evenings for all guests.
Please note that special arrangements can be made should you like to request this service during the week for an additional service charge.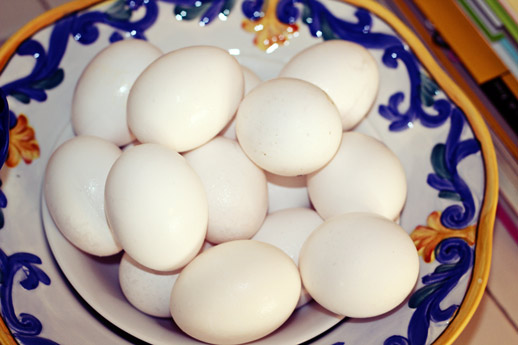 Home-Cooked Breakfast
At Granny Lou's, we want to offer you all the comforts of home and that includes a warm, fresh-out-of-the-kitchen breakfast each morning during your stay.
Whether you prefer something lite or a big country style breakfast, we can make that for you. Each breakfast is cooked to order and we are happy to accommodate special dietary needs.
Breakfast here is intended to increase the pleasure of the senses with delicious well thought out menus and service to meet your mood. We pride ourselves in using local ingredients and even grow some of our own.
Breakfast at Granny Lou's is served from 7 am to 9:00 am Monday through Friday and 7:00 am to 10:00 am on Saturday and Sunday.
For large parties, a breakfast buffet is prepared in the small kitchen and seating in the formal dining rooms.
Please note that special accommodations can be made for your dining pleasure. Please let us know in advance.